So you're ready to step on stage! And you're wondering about the NPC Wellness Division criteria – but… Since it's pretty new, you have no idea what the judges are even looking for.
No problem, you're in luck today!
Let's explore the criteria for the newest division in the NPC and IFBB. I'm going to breakdown exactly what the judges are looking for, and give you tips about how you can DOMINATE in this new category in 2020.
(Video) NPC Wellness Division Criteria for 2020
I want to shine a light on giving you a little bit more background about women's divisions.
And specifically, we're going to be talking about three divisions today that I specialize in working with.
Ultimately, I hope today's content will allow you to determine where it is that you need to be.
So, this is going to be broken up into a three part series and today is part one. Where we're going to take a deeper dive in looking at the NPC wellness division criteria
The Divisions Are Ever-Expanding
I'm super excited, because I remember when I was really interested in starting competing. Keep in mind, this was going back years ago to the 90s. Really there were only two divisions – bodybuilding and fitness.
But when I got to the point where I was actually starting to compete (a decade later) there was fitness, figure and bodybuilding.
The divisions are ever-expanding.
I started off myself with figure. But, I ended up turning pro in the new division at the time, which was women's physique.
I had a great opportunity to compete not only as a top pro in women's physique, but I made it to the Olympia, which is no easy feat for any competitor.
Whenever there is a new division on the horizon it's just super exciting for bodybuilding enthusiasts.
For one, it gives the opportunity for women to really find their place in the sport.
And for those who are looking to turn pro, it's an opportunity to help the federation to establish what the look is, and for those competitors to be really in the mix.
If you're a woman out there who is considering competing in the wellness category, today's content is going to delve a little bit deeper into that.
NPC Wellness Division Criteria for 2020
Wellness is a brand new category for those of us in North America.
The wellness division has actually been all around for a couple of years!
At first, it was showcased mostly in the IFBB International, which is the former amateur division of the NPC and the IFBB outside of the United States.
Latin American Countries Have Established The Roots – But That's Going to Evolve
The wellness division was really popular in parts of Europe, but it was most popular in South America, more specifically in Brazil.
If you're looking to see what the wellness division looks like right now, before it really hits live here in the States, you're going to notice that there's a lot of Latin girls in the mix.
If you know anything about Brazilian girls they have these amazing structures for the sport! Many have got these muscular legs, nice round booties, great round shoulder, bellies and stuff like that. Basically, great structures that fall in line with the wellness division.
Initially, The Wellness Division Was Used For Model Searches
Now up to that point interestingly enough it was a division that like commonly was held for model searches.
When you keep that in mind it kind of gives you an idea of what it is that they were looking for when it comes to the competitors.
The Winning Physique and Structure of a Wellness Competitor
Let's shit focus and talk about the physical structure of the wellness competitor according to the NPC and the IFBB rules.
This division is somewhere nestled between bikini and figures.
The official word from the NPC and IFBB is that they're looking for women who have a highly athletic looking physique.
This is a great division for those of you who ever played any kind of a sport.
So, if you're a woman who played soccer, who ran track, who's a former dancer or current dancer. Maybe even a gymnast to a degree, you would be a great fit quite possibly for the wellness division.
Wellness has a physique that's more muscular than a bikini competitor (who's a little bit more slender without having too much muscular development – and not too crazy lean).
With figure where it is now, as we've seen in recent years, women are really super developed muscularly with super dry heart physiques. If you marry the two together, you're going to get the look of the wellness competitor.
In general, the judges want to see women who have really developed lower bodies, especially great glutes.
When it comes to conditioning, they want to see some good muscle separation without striation.
The judges encourage having a good athletic line with just a bit of muscle separation, which makes this a sport in and of itself.
Wellness Competitors Need To Put In The Work – Plus A Little Extra
The truth of the matter is that you really have to workout, and you have to put in the work!
Now, because this division is a hybrid between figure and bikini, there's going to be a huge presentation aspect to this division.
And I think that's where it gets a little bit more fun.
You are going to be required to do quarter turns, but they also might make you do a bikini walk and back pose to see where your muscularity is for the division.
One of the things that I love about the bikini division is that the girls have so much personality! And this goes the same on wellness stage.
So, ladies get your pizzazz up, get your stage presence up, and make sure that you're absolutely showing your best! Of course great hair, great smile, great makeup, a great suit and just your overall presence on stage is going to be very important if you want to move up the ranks in the wellness division.
My advice to those of you who want to try it it's to just go for it.
Is Wellness The RIGHT Division For You?
One of the great things about being an amateur competitor is that for many shows you can actually crossover.
So, if you're a figure competitor right now who's a little bit more in the smaller side (and you don't want to get any bigger), then you might want to consider going into the wellness division.
If you are a bikini competitor, who's always told that you should move up to figure, but you don't want to go for that look considering the hardness and the muscularity. Perhaps you want to stay where you are while continuing to push yourself, then this division may actually be perfect for you.
What I would say is to just go in and try it!
For those of you who are more advanced competitors, and you've been out there on stage before… Maybe you've tried to get your pro card in figure or bikini, and it hasn't materialized for you. This is an opportunity for you to get your pro card.
Get out there and be the first to be in line.
The Perfect Opportunity to Turn Pro?
The first two years of a new division is really where the federation is trying to find their footing. So, they're always trying to look for a diverse group of competitors to set the standard for where the division develops.
To be honest with you that's how I got my pro card. It was also a reason that I was able to compete at the Olympia.
I stood on stage to represent where the division was at that point in the game.
The second season of women's physique had a huge impact on the way that the division developed from that point forward.
If I can do it perhaps you can too, so definitely try it. Definitely go out there and see how you do.
Step Up Your Competition Game Right Now – Get My Free Contest Prep Crash Course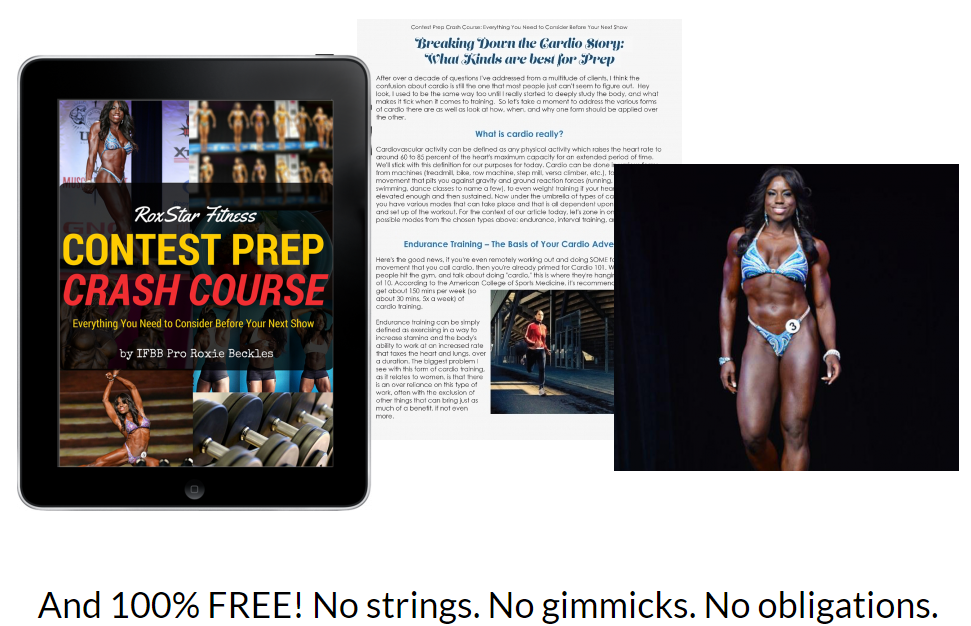 If you are a competitor who's looking to get on stage this year, but you don't know where to start.
Or, maybe you've been doing it for a while. However, this time you want to learn how to do things healthier and better…
Click here to download my Contest Prep Crash Course.
You definitely want to read that! Trust me… It's going to give you some tips about how you can prep for your shows – and do it in a way that's sane and healthy for the long term.
Ready to Compete? Work With Me As Your Coach! Request Your Free Call Now.
If you're a woman out there who's ready to go ahead and finally make her competitive dreams a reality.
Or maybe you actually compete already. But you're looking for a coach who can help you to take these to the next level. To do things in a sane way that's going to enrich your life – and keep you healthy.
Then I want to talk to you.
This in mind my coaching practice is full service. Everything that you need is going to be under one umbrella from your training, your nutrition, your peak week… I'm there for you on the day of your show, presentation consultation, posing and everything is done by me for you!
For those of you who know you're ready to take things truly to the next level – and keep your health and sanity intact in the process…
Set up an appointment to speak with me for 30 minutes about your goals.